Following my studies in mechanical engineering and after performing my military service, I began my career at a national working HVAC contractor (now GTI) in 1958. After a number of years of employment in the sprinkler department and naval department, I was employed in the building department. In 1961, I was sent on detachment to Alblasserdam for my first significant project as an independent designer and project manager. It concerned industrial installations for ventilation and cooling at the steelworks and rolling mills of NKF-steel, currently Nedstaal. With a small drawing office and a permanent team of mechanics, this multi- million, at that time, guilders project was completed in approximately five years.
After such an extended period of working with such great freedom and independence, the prospect of returning to the design department in the Amsterdam head office was not very attractive. I was then offered the opportunity from the board to get a branch office in Arnhem off the ground where a permanent crew of mechanics had already worked for several years at establishing HVAC installations in the new office building of the former Postal Cheque and Giro. The intention was to retain this crew after the completion of this building and to develop activities from this new regional branch. This worked wonderfully and, with the assistance of a flourishing economy, the crew increased fivefold to almost 75 within a period of five years. My region basically comprised the Netherlands minus Holland where HVAC installations were realized in Hoogeveen (Bethesda Hospital), Heerenveen (factory building Tektronix), Emmen (factory building Draka), Apeldoorn (office Centraal Beheer), and Tilburg (Town Hall and Interpolis Office ).
These were very hectic years for me and my family and, despite my excellent position as managing director, I began to wonder whether I wanted to continue to do this type of work. My passion, the HVAC technology to which I had pledged my heart, became increasingly covert and was extensively consumed by the management of a contracting company.
The catharsis came following the acquisition of our company by SHV, a significant and respectable international company which, unfortunately, had no interest in my technical ability but only high demands on my performance as a manager. After reorganization which ended unsatisfactory for me, I finally decided to opt for HVAC technology in 1972. I joined a small consulting firm in Delft and subsequently joined the board as a partner 2 years later. It was there that I felt in my element until my retirement in 1998.
During the next period of twenty-five years, this company, Ketel Consulting Engineers, became a renowned medium-sized consulting firm with a diverse portfolio of completed projects.
The picture below illustrates a number of buildings in which the HVAC systems have been designed by me as advisor and head of the design team.
1         Former Ministry of Housing The Hague with Jan Hoogstad
2         Terminal 3 Amsterdam Airport Schiphol with Jan Benthem
3         Townhall Lelystad with Jan Hoogstad
4         Villa Broadcasting Company VPRO Hilversum with MVRDV
5         Former Head Office Ned. Handel Maatschappij Amsterdam with Joop van Stigt (restauration)
6         Municipal Museum The Hague Haags with Job Roos (restauration)
7         Former Head Office Bank MeesPierson Rotterdam with Rob van Erk
8         Head Office and Studio Broadcasting Companies AVRO, KRO, NCRV  Hilversum with Jan Hoogstad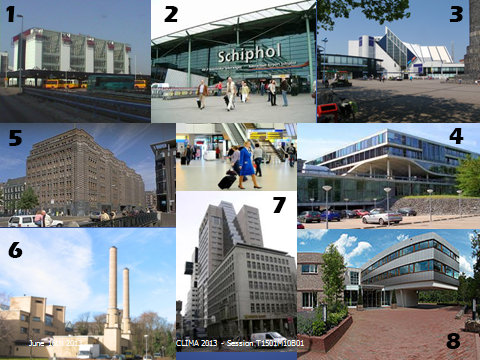 The company, now operating under the auspices of Royal Haskoning, has now earned a reputation for innovation. Membership and regular contacts with, and activities in national and international associations such as TVVL[1](www.tvvl.nl) ,NVBV[2] (www.nvbv.org), ISIAQ[3] (www.isiaq.org) , VIBA[4] (www.vibavereniging.nl) , ASHRAE[5] (www.ashrae.org) , REHVA[6] (www.rehva.eu) en VDI[7] (www.vdi.de) have played an important role in this development.
I began teaching in 1993 as a part-time lecturer in climate technology in the Faculty of Architecture of  Delft University of Technology. My duties mainly consisted of assisting students with the climate technical aspects of their graduation design. In that capacity, I may have probably supervised several hundred students. In addition to my regular consultancy work, I found these activities very satisfactory. I could offer my students practical experience and, vice versa, these young people kept me alert and young.
---